By Brian Cho
Fantasy Basketball Staff Writer
Over the past couple days, the two biggest stories in the fantasy basketball world has been the injuries to the Lakers' big men, Dwight Howard and Pau Gasol, and the firing of Milwaukee Bucks coach Scott Skiles.
Dwight Howard left Sunday's game with a shoulder injury, which was later revealed to be a torn labrum and would be missing at least a week of action. (It was later reported, that it might not actually be torn but regardless there isn't a timetable for his return) Pau Gasol got hit in the face and suffered a concussion. He hasn't passed his concussion tests yet and will be tested again on Thursday to determine if he will be able to return to action on Friday.
Fantasy basketball owners rejoiced as one of the most frustrating coaches (because his rotations are so unpredictable), Bucks coach Scott Skiles, was fired and replaced with interim coach Jim Boylan.
Let's look at the impact of these two stories:
Lakers Conundrum
Dwight and Pau's injuries leaves the Los Angeles Lakers with very few options in the frontcourt. As a result, they had little choice but to recall Robert Sacre from the D-Fenders to start at center and give more minutes to Antawn Jamison and Earl Clark. There's no timetable for either starting big men for the Lakers so feel free to use them all as spot starts.
From Tuesday night's game versus the Rockets, none of three were particularly effective but the playing time distribution is interesting to note. Sacre played the most at 28 minutes, (scoring 10 points with 4 blocks), followed by Jamison with 24 minutes (7 points and not much else) and Earl Clark with 21 minutes (5 points and 9 rebounds). As such, if you do pick them up, be sure to keep expectations in check. Jamison is washed up but is a former all-star and will get hot every once in awhile. Sacre and Clark don't have much offensive games, but they will provide rebounding and blocks.
The biggest takeaway from Tuesday night's game was how much the Lakers chose to play small and go with Jodie Meeks at SG, moving Kobe to the SF position. Meeks played 32 minutes and scored 12 points with 3 three-pointers. As long as Howard and Gasol remain out, Meeks should get a lot of run and will be a great short term pickup for teams in need of points and threes.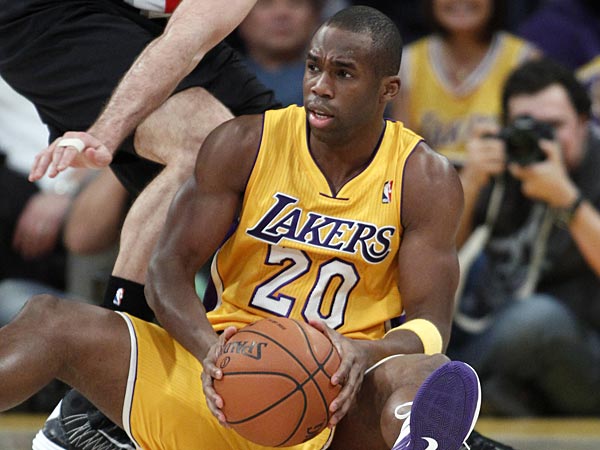 Jodie Meeks got a lot of playing time Tuesday as the Lakers chose to play small
Ersan Unchained
Scott Skiles is out and Jim Boylan is in which only means one thing. Go get Ersan Ilyasova at all costs. You still might be able to find him in the free agency, but you'll most likely have to buy low and it will be worth it. For starters, he's back in the starting line-up and the interim coach referred to him as a "vital part of their success." He's one of the most versatile big men in the league and can fill up the stat sheet. I would recommend throwing some offers out for Ersan while it's still a low risk-high reward opportunity.
Ersan responded Tuesday night with a solid game, scoring 12 points while also contributing 6 boards, 4 assists, 2 steals and 2 threes in 26 minutes. There was some speculation that Monta Ellis and Brandon Jennings could see their minutes cut back, but they played 40 and 37 minutes respectively so little to worry about there. One player that had been getting a lot of hype lately is rookie John Henson. He has averaged 12 points and 12 rebounds over his last 4 games and while he only got 19 minutes in Tuesday night's game, he should quickly earn the trust of the coaching staff and earn many more minutes if he continues to play so well. He's a guy that should be owned in deeper leagues and if worth a look in standard leagues as well.
John Henson has been playing really well and should be picked up in deeper leagues