Here are some thoughts about today's Week 2 game action:
C.J. Spiller
, my
8th ranked RB for Week 2
, tore up the Chiefs rushing 15 times for 123 yards and 2 TDs as well as 3 catches for 47 yards. He showed off his usual amazing speed and broke a ton of tackles. He has a great matchup against the Browns next week and will likely be in my top 10 for Week 3 as well. It's looking more and more like a timeshare between F-Jax and Spiller when the former returns from his injury.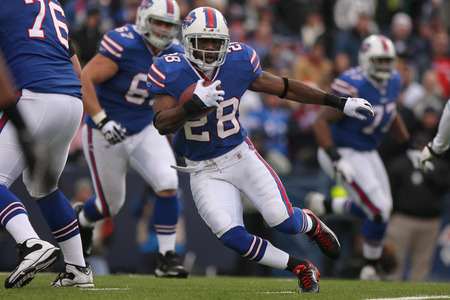 Dwayne Bowe
had a great game, catching 8 passes for 102 yards and two touchdowns, including a 33 yard TD in which he adjusted beautifully to an under-thrown ball by Matt Cassell.Based on his good matchup vs. the Bills, I expected a good game from Bowe ranking him
16th at WR for Week 2
. Going forward, Bowe is still a low-end WR2 as he will be limited by his weak QB play.

Trent Richardson rushed 19 times for 109 yards, catching 4 passes for 36 yards with 2 TDs, looking every bit the amazing player he was in college. He had missed most of training camp after a knee scope, so the extra week of practice helped him a lot. Due to his team and the fact they will be playing from behind a lot I still can't see a top 10 RB season.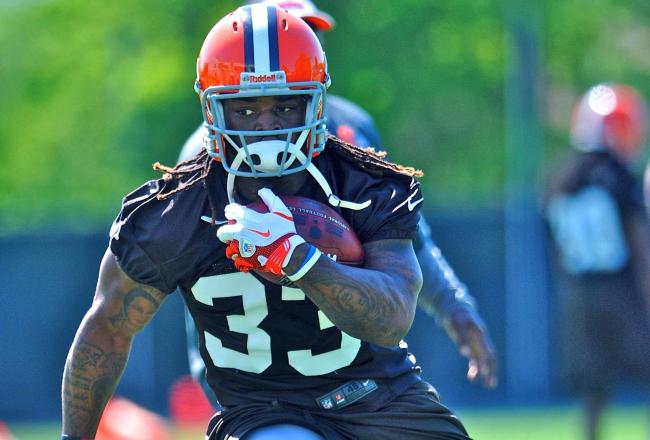 Today's game was a perfect example of why I love
Percy Harvin
this year (see
Perfect Draft
,
PPR Standouts
and
Pre-season WR Rankings
). He had 12 receptions for 104 yards as well as rushed for an additional 13 yards. With those consistent touches, Harvin is an every week low-end WR1 (even more valuable in PPR leagues).
Darren Sproles
caught 13 passes for 128 yards but didn't get a single carry in the game. He will continue to be a star in PPR leagues and an RB2 in standard leagues. The more interesting aspect of the game was that
Pierre Thomas
(9 carries, 4 catches 143 total yards) looked like the better RB than
Mark Ingram
(16 carries for 53 yards and 1 TD). Ingram got the TD, but I expect Pierre Thomas to be the better play for the season.
Just a few days after I wrote an article encouraging people to
buy Wes Welker
, the Patriots did their best to make me look bad by benching Welker in favor of
Julian Edelman
(5 catches for 50 yards).
Aaron Hernandez
got injured in the game, and as a result, Welker got a lot more run than he was at the start of the game finishing with 5 catches for 95 yards on 11 targets, but I'm starting to get worried about Welker's role. If Hernandez sits out next week, Welker should have a good game as an every down receiver, but if Edelman continues to start over him, there is trouble ahead.
Eli Manning
threw for an insane 510 yards with 3 TDs and 3 INT in the Giants come from behind win over the Bucs.
Hakeem Nicks
led the WRs with 10 catches for 199 yards and a TD, but
Victor Cruz
also had a great game with 11 catches for 179 yards and a TD. For this week, I moved Cruz ahead of Nicks on Saturday after reports that he was still feeling pain in his surgically repaired foot. For a season, I still like Nicks better, but Cruz is doing his best to prove that I was too low on him in the pre-season.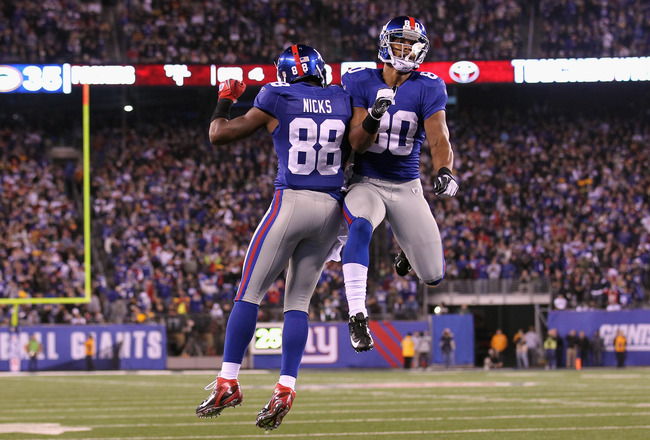 A big concern for the Giants is the neck injury to
Ahmad Bradshaw
(he has an MRI on Monday so we should know more then).
Andre Brown
served as the feature back in his absence rushing for 71 yards on 13 carries with a TD and a couple catches for 19 yards. If Bradshaw sits out next week, Brown could be very successful as the starter against a CAR defense that just allowed the Saints to run for 163 yards on 25 carries.
Brandon LaFell
led the Panthers with 8 targets Sunday finishing with 6 catches for 90 yards and another 25 yards on a rushing attempt. There is a clear opportunity to run with the starting job opposite Steve Smith (3 catches for 104 yards) in the pre-season after Legedu Naanee signed with the Dolphins and LaFell has done nothing but impress. There is WR3 upside there.
Ugh,
Chris Johnson
! Another pathetic game from the former fantasy stud. He was another guy I mentioned that I was
buying just a few days ago
. But now after two games when he's totaled 21 yards rushing on 19 attempts (a pathetic 1.1 yards/carry) something is clearly wrong with the Titans "star" RB. I'm not completely jumping ship on my pre-season CJ2K love, but I'm benching him if I have any legitimate options until further notice. At this point, I want him to prove to me he's back before I trust him with anything more than a flex option.
It looks like the old Phillip Rivers is back! Even without San Diego's best weapons, Antonio Gates and Ryan Mathews, Rivers controlled the game and looked sharp completing 75% of his passes for 284 yards 3 TDs and only 1 INT (after a career high 20 INT last season). In the pre-season, I expected that Robert Meachem would establish himself as the #1 WR. However, it was Malcolm Floyd that was the go-to receiver for the second straight week with 6 catches for 109 yards after a 66 yard-TD performance in Week 1. Meachem on the other hand was held off the scoresheet entirely after a disappointing Week 1 performance. It's clear that he isn't a big part of the offense, and that Floyd is the WR to own in SD now.
Rams QB Sam Bradford had a very encouraging first year in the NFL completing 60% of his passes for 3500 yards and 18 TDs. However, last season he struggled battling injuries and missing his go-to WR Danny Amendola for most of the season. In Week 2, Bradford locked in on his favorite target early and often completing 15 passes for 160 yards and a TD. Bradford finished the game with a 74% completion rate for 310 yards and 3TDs. Washington's defense isn't anything to write home about, but today's performance demonstrated what Bradford is capable of. He has the talent to solidify himself as a QB2 in fantasy going forward. Amendola, however, has earned every week starter WR3 in standard leagues and WR2 in PPR leagues.
The other big story of the the Rams-Redskins game was Steven Jackson's being replaced by 7th rounder rookie Daryl Richardson in the second quarter. It was originally suspected to be a benching after S-Jax spiked a ball in frustration and getting an unsportsmanlike penalty, but it turns out that S-Jax actually suffered a groin injury. Richardson (83 yards on 15 carries and 2 catches for 19 yards) got all the work after S-Jax left the game and looked quick and decisive as the feature back. The next two weeks, the Rams play the Bears and the Seahawks, which are pretty tough matchups, but Richardson should be owned as groin injuries tend to linger and he would be the clear starter.
After leading the 49ers in catches in Week 1,
Michael Crabtree
was at it again in Week 2 and now has 13 catches for 143 yards in his first two games. As many of you remember, Crabtree was a star in college and has never really been able to transfer that success to the NFL. However, he led the team in catches last season, and has clearly established himself as the #1 WR in SF. He's an every week WR3.