This column will discuss the surprise stars (breakouts) and injuries (breakdown) that occurred in Week 3 of the 2012 NFL season and the fantasy implications of those performances. For Week 3, the amazing performances of some of the fantasy studs were already discussed in the article
Start your Studs
and therefore, they will not be discussed here.
Breakouts:
Mikell Leshoure
: In shocking events on Sunday, Mikell Leshoure was named the starter in his first game back from suspension.He was expected to get no more than 15 touches, but instead, Kevin Smith didn't even get a single offensive touch while Leshoure dominated the carries, finishing with 26 carries for 100 yards and 4 catches for 34 yards and a TD. He served as the feature back and took complete control of the starting job. I had
touted Leshoure in the preseason
and encouraged people to pick him up, but if somehow he is still unowned he should be the #1 pickup this week.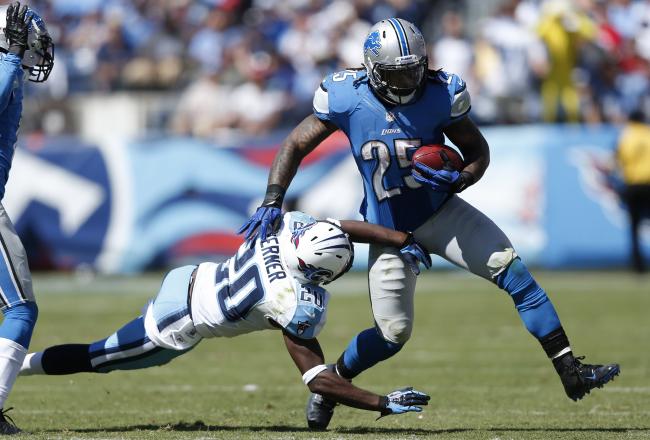 Mikell Leshoure is a RB2 going forward as the starter in Detroit
Christian Ponder:
Ponder passed for 198 yards and 2 TDs as well as rushing for 33 yards and another TD. Going into the game, Ponder was leading the NFL in pass completion percentage and 7th in passer rating however, his fantasy points were limited in those two games based on a lack of TDs, but now has thrown for 713 yards, 4 TDs, 0 INT while rushing for 41 yards and a TD in 3 games. Based on the conservative yardage and TD totals, there isn't QB1 upside this season, but Ponder has significantly improved from last season and should be a safe low-end QB2 going forward.
Kyle Rudolph:
The recipient of both of those TD passes, Rudolph's breakout season has been overshadowed by fellow TEs Dennis Pitta and Martelleus Bennett. However, Rudolph has been every bit as impressive now with 13 catches for 138 yards and 3 TDs on the year. As a giant target at 6"6, 260 lb, with a wingspan of more than 80 inches he will continue to be a great red zone target and I won't be surprised if he surpasses 10 TDs on the year.
Torrey Smith:
While Sunday was a great day football wise for Torrey Smith, it was probably one of the toughest days of his life. Torrey's younger brother Tevin Jones, 19, was killed in a motorcycle accident late Saturday night less than 24 hours before Sunday night's game. No one would have faulted him for sitting out the game after such an emotionally draining day. However, Smith not only played, but was the star of the game catching 6 passes for 127 yards and 2 TDs. His courage and toughness was amazing to watch. Going forward, Smith showed why he was a favorite sleeper of a lot of fantasy analysts in the pre-season. He is no long just a deep threat, but has developed into more of a complete WR than he was last season. He is currently a borderline WR3 but he has the upside for a fair bit more than that.
Torrey Smith and his brother Tevin Jones, killed Saturday night in a motorcycle accident
Breakdowns:
Matthew Stafford:
Stafford injured his hamstring chasing after Titans CB Alterraun Verner who was returning a fumble back for a TD. A non-contact injury like this is never a good sign, but we should know more after today's scheduled MRI. Shaun Hill stepped in for Stafford and performed very well (10-13 for 172 yards, 2 TD) and would be startable in deeper leagues should Stafford miss the friendly Week 4 matchup at home against the Vikings.
C.J. Spiller:
Spiller left the game after being slammed on his shoulder and had to be carted off the field. The injury has been called a shoulder sprain, and the timetable was originally determined to be 1-2 weeks. Fred Jackson is on his way back from his knee injury and there is a good chance that he could be back in the lineup Week 4. However, if both F-Jax and Spiller are out, Tashard Choice (20 carries for 91 yards, 2 catches for 8 yards) will take over as the feature back. Whoever is the starter will have value as Chan Gailey's spread offense is great at creating space for RBs.
Reggie Bush:
Bush took a helmet to the knee and at the time it didn't seem serious at the time. He limped off the field on his own power and didn't need to be attended to on the sideline by the training staff. It was reported that the injury might keep him out a couple games, but an MRI showed no structural damage so it is clear that this is not a long-term injury. In his absence, Daniel Thomas (19 rushes for 69 yards, 1 catch for 11 yards, TD) played 42 snaps compared to just 17 for Lamar Miller (9 carries for 48 yards) and would be the preferred start should Bush miss Week 4.
Reggie Bush suffered a knee in Week 3, but it doesn't seem like a long-term concern
Willis McGahee:
McGahee struggled in a tough matchup against the Texans before exiting with a rib injury in the 3rd quarter. Lance Ball got most of the work in his absence, but talented rookie
Ronnie Hillman
should also have a role should McGahee miss time. Rib injuries are traditionally tough to come back from even if there are no broken bones, so there is a good chance that McGahee sits out this week.
Peyton Hillis:
While
Jamaal Charles was going wild
, Peyton Hillis had a rough game, rushing 3 times for only 11 yards and leaving with an ankle injury in the 3rd quarter. At that point, Charles was already being used as the feature back so the ankle injury is likely not going to make a big difference in the Chiefs backfield. However, it may open the door for Shaun Draughn (10 touches for 48 yards) to carve out a bigger role in the offense.
Beanie Wells:
The Cardinals backfield has been a situation to avoid in fantasy leagues with Beanie Wells and Ryan Williams both being ineffective and splitting carries. However, Beanie left Week 3 after carrying 8 times for 18 yards with what is being called turf toe opening the door for Ryan Williams to shine (13 carries for 83 yards, 1 catch for 12 yards). If Beanie is out, Williams will have a chance to display the talent that
made him one of my sleepers
this season, however, the matchup against the Dolphins is a very difficult one.
Kenny Britt:
After getting only 19 snaps in Week 2, Britt played 37 snaps is Week 3 and was pretty effective (6 catches for 55 yards) before leaving with what seemed to be a minor ankle injury. All indications are that the ankle injury is minor and he should be active for Week 4. With his role growing in the offense, it may not be long before he overtakes Nate Washington as the Titan's #1 WR.
Kenny Britt got a little banged up in Week 3, but his role has been growing in the Titans offense
Jared Cook:
After struggling in his first two games, Jared Cook was on his way to a great game (4 catches for 77 yards, TD) before leaving with a shoulder injury late in the first half. He is expected to be fine for Week 4.
Darelle Revis:
Revis sufered a torn ACL in Sunday's game. It's a huge blow to that defense and the Jets are immediately droppable in all but the deepest leagues.
Darrius Hewyard-Bey
: In what was a terrible injury to watch, DHB was carted off the field after taking a super dirty hit from Steelers' Ryan Mundy (attached below). He suffered a concussion and a neck injury but luckily he has already been released from hospital and is expected to be on the road to a complete recovery. His absence, however, opens the door for Denarius Moore to se his role in the offense grow, as well as Rod Streater and Derek Hagan.
Brandon Myers:
The injuries in Oakland didn't get any better with breakout TE Brandon Myers suffering a concussion as well. He has 15 catches for 206 yards in the three games and was starting to become a go-to receiver for Carson Palmer.
Austin Collie:
In his first game this season after missing the first two with a concussion, Collie ruptured his patella tendon and will be out for the year. Collie was a big sleeper in the pre-season and its a big shame that he hasn't been able to stay healthy over the course of his career. Donnie Avery will step in as the starting WR opposite Reggie Wayne and he could be a solid fill in for the upcoming bye weeks.
Austin Collie's season came to an end after he tore his patella tendon in Week 3.
Julian Edelman
: Edelman left the Sunday night game after suffering a hand injury late in the 2nd quarter and never returned. He caught 4 passes for 28 yards and a TD in the first half and has been starting to carve out a big role in the Patriots offense. He was scheduled for X-Rays today, but assuming there is no break, he will likely be able to return this Sunday for Week 4.
Other news:
With Aaron Hernandez missing the game due to his ankle injury, Tom Brady relied on WRs
Wes Welker
(8 catches 142 yards) and
Brandon Lloyd
(9 catches for 102 yards). Both of them have been struggling to begin the season for whatever reason but not tonight. Going forward, both WRs are good WR2 options especially while Hernandez remains out of the lineup.
In the preseason I wrote an article discussing the
Redskins RB Situation and that whoever becomes the starter should not be trusted
. As a result, I recommended fantasy owners to sell high on
Alfred Morris
before Shannahan pulls the rug out from under him and his owners would be stuck with a player that they could not possibly start. However, after three straight games in which Morris has received almost all of the backfield carries, (no other RB has more than 5 carries) he has rushed 61 times for 263 yards and 3 TDs and has solidified himself as a safe start. Now I still don't trust Shannahan to keep Morris as the starter throughout the season but until something changes, my faith in Morris has grown.
Alfred Morris has exceeded all expectations with his success in Weeks 1-3, but can we trust him going forward?
There appears to be a changing of the guard for the New York Jets. To open the year,
Shonn Greene
was the clear starter, despite never proving very effective in that role over his career. This year, he has been especially bad, rushing for only 157 yards on 57 attempts (2.8 yards/carry). Due to Greene's struggles, Bilal Powell,
a sleeper I discussed in the preseason
, has carved out a role in the Jets rushing attack. After being given 9 carries in Week 2, Powell got another 10 carries in Week 3, and was much more effective than Greene each of those two weeks. If you have a spot available, I would take a shot on Powell as I expect a timeshare to be on the horizon.