By Andrew Nichols
Fantasy Football Staff Writer
Welcome to another week of the Thursday Night Football Fantasy Preview. Here you will get simple, no-nonsense advice on who to start and who to sit this week. This works a little differently from other sit-start lists, since I will be naming players outside of the obvious plays, and anyone outside of those obvious starts I don't mention you can feel free to leave on your bench. Now, let's get started.
This week, the Jags play the Colts; both teams entered the season with little expectations, but the Colts have legitimate playoff aspirations after winning five of their first eight games. Donald Brown and Vick Ballard shared carries last week, but Brown hasn't practiced all week, and it appears as though he may be out for this game.
Week 10 TNF Starts (please remember this omits obvious starts like Reggie Wayne):
Andrew Luck
- It's not exactly surprising to see Luck's name mentioned as a start this week. Through 8 games, he has thrown for 2404 yards, which is actually the exact same as Peyton Manning, someone most fantasy players consider to be a stud. This week Luck has a middle of the road matchup as the Jags have allowed 15 fantasy points per week to opposing QBs, but it's only because teams have been running all over the Jags. However, the Colts have attempted the 3rd most passes in the NFL through Week 9 so expect Luck to exceed that average. Start him with confidence in 12 team leagues, and consider him in 10 team leagues.
Andrew Luck is a great start this week against a very weak Jaguars defense.
Cecil Shorts
- Shorts has been very flaky and anything but consistent, but when he does breakout, it's often for twelve or more points. Jags rookie WR Justin Blackmon got his first touchdown last week, but I don't anticipate it becoming a trend in his favor. I'd consider Shorts a strong flex play this week due to his very good fantasy matchup.
Rashad Jennings
- This guy is on the cusp of being a no-brainer start, but the last few weeks he hasn't been super impressive in MJD's absence. Still, he is in for good times against a very week Indy run defense. He's not quite getting 4 yards per carry (~3.8), but he will be involved in the passing game, and has a good chance of getting in the end zone. I'd consider him a low-end number two back this week.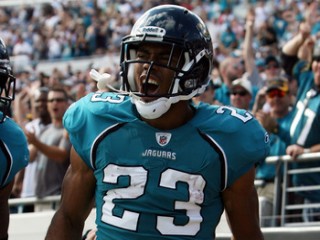 The Colts have been run on all year, so Rashad Jennings is in for a big game this week.
T.Y. Hilton
- This is another guy that is along the lines of Cecil Shorts, except he has the "big play" ability of some of the stars in the league like Mike Wallace or Torrey Smith. That being said, I certainly do not like him over either of those guys, but he is a worthwhile bye week fill in or low-end flex play this week. He had a 17-point outing in standard scoring leagues last week, so you just never know when he will break out. If you are looking for a lottery ticket this week, why not take a chance on Hilton?
Vick Ballard
- Last but by no means least is Vick Ballard. While I am not as high on this guy as some of the more popular fantasy analysts out there, I do feel he is in for RB2 type production Thursday against the Jags. What hampered Ballard in the past was the looming uncertainty surrounding Brown's status, and this week is no exception. Brown seems unlikely to play on Thursday night since the Colts don't want to risk him re-injuring himself while Ballard can easily carry the load. As such, I expect around ten fantasy points from Ballard, so if you have him, and Brown is indeed inactive, he should be in your lineup.
That's all for this week, so enjoy the game and I wish you the best of luck.