By Josh McFall (Follow me on twitter @jmcfall5)
Staff Fantasy Football Writer
It's Tuesday, one of the most important days in fantasy football. It's time to make your waiver wire selections for the upcoming week. I know some of you spend countless hours studying stats, trends, and matchups. I applaud you for your efforts. However, for those of you that do not have the time of patience for this, I have searched out some claims with interesting potential for the week.
QBs:
Nick Foles, Eagles (Available in 99% of leagues)
@ Washington who have allowed 19pts/game to QBs. Foles did not exactly impress when he took over for Vick against the Cowboys in week 10, but he did tear up the pre-season. With all the QBs that got injured this week (Big Ben, Vick, Alex Smith and Cutler), Foles is a pretty decent plug and play.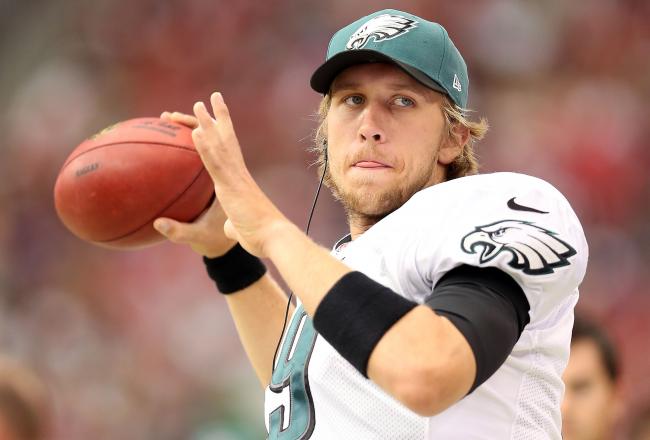 Ryan Tannehill, Dolphins (Available in 80% of leagues)
@ Bills. The Bills have not forced a QB turnover in their past 3 games. They allow 19 pts/game to opposing QBs. Although Tannehill had a rough week in week 10, so far in his rookie campaign, he has followed a poor performance with at least 15 fantasy points in his next game.
RBs:
Marcel Reece, Raiders (Available in 85% of leagues)
vs Saints. I was reluctant to suggest him last week because of the uncertainty surrounding how many touches he would or would not receive. The Raiders made us well aware that they don't yet trust Taiwan Jones, and Reece will be the guy in the absence of Darren McFadden and Mike Goodson. This week playing at home vs the brutal Saints run defense who have averaged 22pts/game to RBs (3rd worst in fantasy football).
Daniel Thomas, Dolphins (Available in 50% of leagues)
@ Bills. The worst fantasy defense vs RBs. Buffalo has allowed an average of 25pts/game to RBs. In their past 3 contests that number has jumped even further to a ridiculous 30pts/game. While it is not a guarantee Thomas will see more carries than Reggie Bush, he has been getting steady touches (at least 8 touches and 5 fantasy points in 3 straight games) and is worth rolling the dice on as a flex play.
WRs:
Darrius Heyward-Bey, Raiders (Available in nearly 50% of leagues)
vs Saints whose pass defense is somehow even worse than their run defense. The have allowed opposing WRs to average 29pts/game against them, often letting speedsters (like DHB) get behind the defense. Combine that with DHB's average of 9.5pts/game over the past 4 weeks and you might have yourself a nice waiver snag.
Plus, Denarius Moore has been establishing himself as a bonafide #1 NFL WR, so you better bet the Saints will be shifting coverage to try to take him more out of the game.
Jeremy Maclin, Eagles
@ Redskins. Yes, I know Maclin is owned in almost all leagues, but he only started in 40% of leagues this past week. I know, the Eagles have disappointed yet again this year. I know, he has a rookie QB getting his first start this week. I know, he may have yet another injury. Just call this one a gut feeling. If Maclin suits up, he has about as good as of a matchup as one can hope for. If you have him on your bench, this may be the week to take a chance.