Here are your hot pickups of the week for Week 7 of the fantasy basketball season. Please check out the pickups for
Week 5
and
Week 6
as well, as many of those players are still available in many leagues.
Jordan Crawford (WSH)
: Jordan Crawford has been serving as the Wizards 6th man, and has been super productive his last 7 games, averaging 17.4 points, 3.3 rebounds, 4.6 assists and 1.3 threes. Now that A.J. Price broke his hand and will be out for the next 4-6 week, Crawford should even see a bigger role in the offense going forward and should even play some time at PG which will be a big boost for his fantasy value.
Jordan Crawford is a great add for owners in need for scoring, threes and assists
Bradley Beal (WSH)
: Another beneficiary of the A.J. Price injury, Beal played some point guard once Price left the game Saturday night, leading to him setting a new career high with 6 assists. He has scored double digit points in 4 straight games now and his FG% will continue to improve as he becomes more comfortable in the NBA.
Rodney Stuckey (DET)
: Rodney Stuckey averaged almost 15 points and 4 assists last season, but opened 2012-13 horribly due to his struggles with his shot (shooting 35% in October and November) which resulted in him being dropped in many leagues. In December, he's been back to the player we've come to expect averaging 13.6 points, 3 rebounds, 6.8 assists and shooting 45% from the field. He needs to be owned in all leagues.
Markieff Morris (PHO)
: Surprisingly, Morris is owned in less than 10% of ESPN leagues despite three straight games of double digit points while averaging almost 10 rebounds and totaling 4 blocks and 2 threes. As long as he continues to get at least 30 minutes of playing time as in those three games, he will be a valuable fantasy commodity.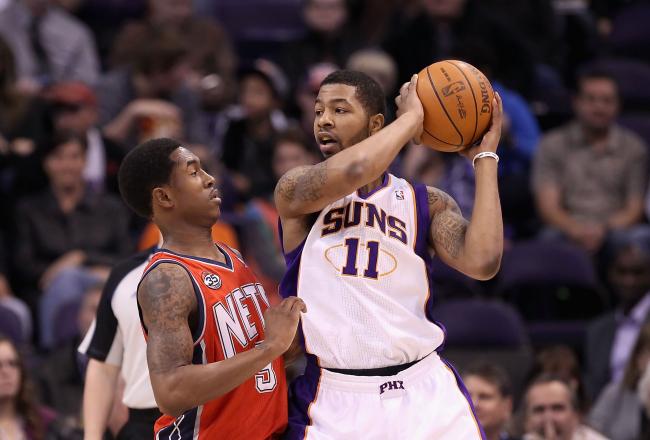 Markieff Morris is getting major minutes and has a unique skill set that is perfect for fantasy
Others to consider
: Steve Novak, Chris Duhon, Vince Carter, Danny Green
Deeper League Pickups
Reggie Evans (BKN)
: The Nets moved Reggie Evans into the starting rotation at the expense of Kris Humpries on Sunday, because of his rebounding and defense. Reggie responded by posting 5 points, 9 rebounds, and 4 steals in 27 minutes. Evans has averaged 8.1 rebounds in only 19.5 minutes on the season entering Sunday, so if he keeps the starting job, he should easily average double digit rebounds. However, he lack much value in any other category except perhaps some value in steals.
Reggie Evans doing what he does best hustle for a rebound or loose-ball
Corey Brewer (DEN)
: Coming into Sunday's game, this former steals specialist had scored at least 19 points in 3 straight games, raising his average to 11.4 points on the season to go along with 1.4 steals and 1.5 three pointers. His shot is very inconsistent, but while he's playing well, pick him up and enjoy the ride.
Others to consider
: Carlos Delfino, Devin Harris