Here are my preseason rankings for centers in a standard 8-category rotisserie league.
Point Guard (PG)
,
Shooting Guard (SG)
,
Small Forward (SF)
and
Power Forward (PF)
previews are also available.
The 8 categories are: FG%, FT%, Points (PPG), Rebounds (RPG), Assists (APG), Steals (SPG), Blocks (BPG) and 3-pointers (3PT), NOT including turnovers. Player position eligibility for these rankings are based on ESPN's position eligibility, so they may be slightly different to the ones used in your league.
Tier 1:
1. Pau Gasol, LAL
-
See PF preview for discussion
2. Andrew Bynum, PHI
- Bynum may be the most talented center in the league, and he's moving to a new team in which he should be the go-to scoring option. However, ongoing knee issues are a huge concern. He is expected to begin practicing October 24th, but it is still up in the air as to whether he will be able to return in time for the start of the regular season.
Bynum is an injury risk, but when healthy there may not be a better fantasy center
3. LaMarcus Aldridge, POR
-
See PF preview for discussion
4. Marc Gasol, MEM
- Gasol doesn't score as much as some of the other elite centers, but he is so valuable in the other categories that it doesn't really matter. He shoots great percentages from the field and the line, averages 1.0 SPG, close to 2.0 BPG and is a great passing big man who has improved his assists every year in the league.
5. Dwight Howard, LAL
- For the first time in years, Dwight Howard is no longer the surefire first center off the board in fantasy leagues. He is moving to a new team in which he will no longer be the top option like he was in Orlando and is coming off a serious back injury. However, when healthy, there is no more valuable center in fantasy basketball.
6. Serge Ibaka, OKC
-
See PF preview for discussion
7. Al Jefferson, UTA
-
See PF preview for discussion
Tier 2:
8. DeMarcus Cousins, SAC
-
See PF preview for discussion
9. Greg Monroe, DET
- Monroe had a breakout season in 2011-12 averaging 15.4 PPG, 9.6 RPG, 2.3 APG, 1.3 SPG and 0.7 BPG (7th best center). He is the focal point of the Pistons' offense and at only 22 years old, there is still a lot of room for growth especially in blocks, where he averaged only 0.7 BPG for his career (1.5 BPG in college).
Monroe had an excellent 2nd NBA season, but he should be even better this season
10. Al Horford, ATL
-
See PF preview for discussion
11. Kevin Love, MIN
-
See PF preview for discussion
12. Marcin Gortat, PHO
- In his first year as the starter in PHO, Gortat seized the opportunity averaging 15.4 PPG, 10 RPG, 1.5 BPG while shooting 55.5% from the field (9th best center). Steve Nash is now gone, but Goran Dragic is a very talented PG and therefore, Gortat's value shouldn't be greatly affected this season.
Tier 3:
13. Brook Lopez, BKN
- Lopez missed almost all of last season, but in his first two seasons he was an extremely valuable fantasy center, most notably in 2009-10 when he averaged 18.8 PPG, 8.7 RPG, 1.7 BPG with excellent percentages. Lopez looks great in the pre-season and is even rebounding like he did his first two NBA seasons so he should be a steal in drafts (going in the 6th round in ESPN drafts) if he stays healthy all year.
Brook Lopez is a very pick in fantasy drafts as he should return to his early career form.
14. Roy Hibbert, IND
- Hibbert has steadily improved each season in the league as evidenced by last season's career high efforts in points, rebounds and blocked shots in less than 30 minutes per game. He should see even more minutes this season, so his statline should continue to improve.
15. Chris Bosh, MIA
-
See PF preview for discussion
16. Kevin Garnett, BOS
-
See PF preview for discussion
17. Joakim Noah, CHI
- For the last three NBA seasons, Noah has been extremely consistent averaging close to 10.5 PPG, 10.5 RPG and 1.5 BPG in every season. With Rose's absence to start the year, there is potential for growth offensively, but this author is skeptical. Regardless, Noah is a very valuable fantasy center and a solid mid-round pick.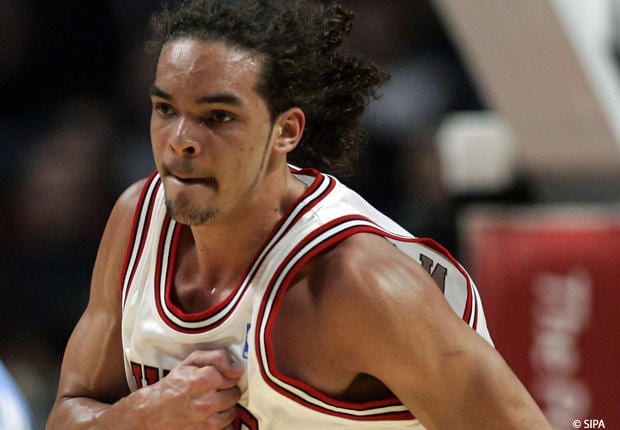 Joakim Noah is a consistent and reliable fantasy center and even has a little upside this season with Derrick Rose out
18. Tyson Chandler, NY
- Chandler doesn't have the greatest offensive game (career 8.6 PPG) but his value defensively is massive. The steals and FG% last season were a career high so expect some regression, but another 10 PPG, 10 RPG, 1.5 BPG season is likely.
19. Nikola Pekovic, MIN
- Pek started 35 games last year averaging 15.4 PPG, 8.5 RPG, 0.8 BPG and 0.6 SPG while shooting a good percentage both from the field and from the line. He doesn't stand out in any categories, but especially with Kevin Love out to start the year, he will be a valuable backup fantasy center.
20. Amare Stoudemire, NY
-
See PF preview for discussion
Tier 4:
21. Tim Duncan, SA
-
See PF preview for discussion
22. JaVale McGee, DEN
- McGee is a very athletic shot blocker, but he will need significantly more than the 20 MPG he averaged last season with DEN to be a valuable fantasy asset. Coach Karl has indicated that he intends for McGee to get minutes "in the high 20s," and if so he will drastically outperform his draft day value.
McGee is one of the best shot blockers in the NBA but also has some offensive upside this season
23. Andrea Bargnani, TOR
-
See PF preview for discussion
24. Andrew Bogut, GS
- Bogut is a great fantasy center when healthy, capable of averaging 15 PPG, 11 RPG and 2.5 BPG. However, he has missed significant time due to injuries in all but two of his seven NBA seasons. He is still rehabbing from his ankle surgery and has yet to be cleared to return to game action.
25. Glen Davis, ORL
-
See PF preview for discussion
26. Nene, WSH
-
See PF preview for discussion
Tier 5:
27. DeAndre Jordan, LAC
- Jordan's offensive game is almost non-existent, but luckily he focuses on what he does best; dunking, rebounding, and blocking shots. His FT% is putrid, but at less than 3 FTs per game every year since he's been in the league, it is not as big a weakness one might think.
28. Chris Kaman, DAL
-
Former all-star center Chris Kaman is a shell of the player he was in his prime, but is still an effective rebounder and shot blocker when healthy. Unlike most of the centers available in this tier, he doesn't hurt your FT percentage, so Kaman should provide good value until he gets hurt again.
What's a Sasquatch doing in an article about fantasy centers? Oh...that's just Chris Kaman
29. Omer Asik, HOU
- In only 14.7 MPG last season with the Bulls, Asik averaged 5.3 RPG , 1.0 BPG and 0.5 SPG. Now that he has signed with the Rockets, Asik has little competition as the starting center, and will likely see close to 30 minutes per game.
30. Jonas Valanciunas, TOR
- The 5th pick in the 2011 draft looked amazing last season in Lithuania, but the NBA is a huge step up in competition. Andrea Bargnani, Ed Davis and Amir Johnson are expected to see minutes at center as well, but Valanciunas should average at least 10 PPG, 7 RPG and 1.5 BPG in his rookie season if he can stay out of foul trouble.
31. Derrick Favors, UTA
-
See PF preview for discussion
32. Anderson Varejao, CLE
-
See PF preview for discussion
33. Emeka Okafor, WSH
-
Nenê
is still without a timetable to return, so the door is open for Okafor to get major minutes for the Wizards. When healthy, Okafor is a valuable fantasy center as he should have little trouble averaging 10 PPG, 10 RPG and 1.5 BPG if given 30 minutes per game.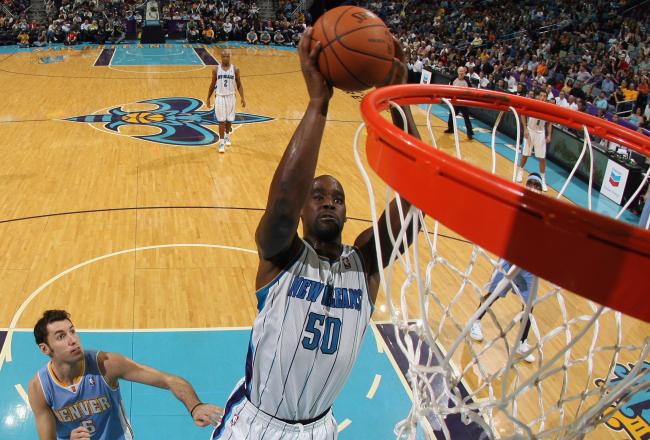 34. Tristan Thompson, CLE
-
See PF preview for discussion
35. Bismack Biyombo, CHA
-
See PF preview for discussion