Here are my pre-season rankings for power forwards in a standard 8-category rotisserie league.
Point Guard (PG)
,
Shooting Guard (SG)
and
Small Forward (SF)
previews are also available.
The 8 categories are: FG%, FT%, Points (PPG), Rebounds (RPG), Assists (APG), Steals (SPG), Blocks (BPG) and 3-pointers (3PT), NOT including turnovers. Player position eligibility for these rankings are based on ESPN's position eligibility, so they may be slightly different to the ones used in your league.
Tier 1:
1. Pau Gasol, LAL
- Even with Bynum healthy all year, Gasol finished as the 6th best player on the Player Rater (2nd PF behind Kevin Love). He is the safest PF to finish the year in the top 3 PFs.
2. Josh Smith, ATL
-
See SF preview for discussion
3. LaMarcus Aldridge, POR
- Aldridge has steadily improved his game every year since coming into the league 6 seasons ago. In addition to having a great offensive game and posting excellent percentages, he rebounds well and is talented enough to post more than a block and steal per game.
4. Serge Ibaka, OKC
- Ibaka's offensive game is still growing but despite his limitations, he finished 11th overall (4th PF) last season due to his shot blocking. The word elite doesn't even do it justice. Ibaka's blocks alone would have made him the 11th most valuable PF.
Serge Ibaka is

always

undervalued in drafts, but his blocks alone make him a fantasy beast
5. Al Jefferson, UTA
- Big Al is a great scorer, and he is a very good rebounder and shot blocker. However, his percentages aren't as good as some of the elite big men and there are slight playing time concerns now that Derrick Favors is expected to see a greater role in his 3rd season.
Tier 2:
6. DeMarcus Cousins, SAC
- Cousins' post all-star break numbers last year were amazing: 19.8 PPG, 10.6 RPG, 2.2 APG, 1.7 SPG, and 1.1 BPG while improving his FG% to 45.9%. He will need to be more consistent to be able to replicate that for the whole year, but he is talented enough to challenge for the top PF spot.
DeMarcus Cousins has loads of talent, but he needs to improve his consistency and shot selection to become a top 5 PF
7. Paul Millsap, UTA
- Millsap was a fantasy star last season despite a dropoff in scoring and FG percentage due to his elite steals from the PF position (1.8 SPG). Favors' role is said to be expanding this year, but Millsap should still get his 30+ minutes per game and continue to be productive.
8. Al Horford, ATL
- Prior to tearing his pectoral, Horford was an extremely valuable fantasy option as he's a good scorer and rebounder in addition to averaging at least 1.0 BPG and close to 1.0 SPG. Now that Joe Johnson is gone, his offensive role could be increased.
9. Kevin Love, MIN
- Love is a no-doubt top 5 fantasy overall pick due to his elite rebounding, scoring, 3PTs and FT%. Even without getting many steals/blocks, he is easily the best PF in fantasy. However, he will be out at least a month after breaking his hand. If you can get through the first month of the season without him, he will pay great dividends down the stretch.
Kevin Love is injured to start the year, but when healthy he is the clear #1 PF in fantasy basketball
10. Anthony Davis, NOR
- Davis is an elite shot blocker and good rebounder as evidenced by his dominating performance helping Kentucky win the NCAA championship last season. His offensive game is far from a finished product, but there is no reason he can't provide Serge Ibaka like numbers in his rookie season while playing major minutes for the Hornets.
11. David Lee, GS
- Lee is a great scorer, rebounder, and a good passer for a big man. However, he doesn't help out enough in the other categories to be a top 10 PF option. Also, a healthy Andrew Bogut should slightly take away from his production.
Tier 3:
12. Chris Bosh, MIA
- Bosh gets lost in the shuffle playing with two of the best players in the NBA, LeBron James and Dwayne Wade, but he is still a valuable fantasy option in his own right. His production has been pretty steady since he's been in MIA, averaging 18 PPG, 8 RPG, close to 1.0 SPG and BPG, while shooting good percentages too.
13. Ryan Anderson, NOR
- Ryno broke out last season after he was finally given the minutes he deserved, scoring 16.1 PPG with an insane 2.7 3PTs while grabbing 7.7 RPG. This season, he will likely get most of his minutes at SF, which would make him even more valuable in fantasy leagues.
Ryan Anderson is on a new team and will likely be playing a new position, but will still be a fantasy star once again
14. Blake Griffin, LAC
- Griffin is an elite talent; he should score 20+ PPG and grab 10+ rebounds in his sleep. But his steals and blocks haven't developed as expected for a player with his athleticism and he kills you at the FT line. These limitations held him back from being a top PF option last season (21st among PFs) and will do so again this season.
15. Gerald Wallace, BKN
-
See SF preview for discussion
16. Kevin Garnett, BOS
- Even at 36 years old, KG is still one of the best PFs in the game (8th among PFs just last season). The Celtics plan to give him about 31 MPG (just like the previous two seasons) so as long as he's healthy he should have another productive season.
17. Dirk Nowitzki, DAL
- When healthy, Dirk is an elite PF but at 34 years old, he has been starting to decline and will now be sidelined for six weeks after arthroscopic surgery on his knee. The upside is there, but I'm staying far away.
18. Kenneth Faried, DEN
- Faried is essentially a Paul Millsap clone, a great rebounder and will rack up blocks and steals. However, his offensive game is not yet as polished. After he was installed as the starting PF last season, he averaged 11 PPG, 8.2 RPG, 0.9 BPG and 0.8 SPG while shooting 59% from the field in only 24.6 MPG. If he gets 30+ MPG like he deserves, "The Manimal" will have a huge breakout season.
The Manimal is a great breakout candidate based on his success last season after taking over the starting job.
19. Ersan Ilyasova, MIL
-
See SF preview for discussion
20. Amare Stoudemire, NY
- Amare was very ineffective last season being hampered by knee trouble and missing 19 games because of it. He doesn't have the explosion that he had in his PHO days, but he should return to the 20+ PPG scorer and provide solid production if he can stay healthy.
21. Danilo Gallinari, DEN
-
See SF preview for discussion
Tier 4:
22. Tim Duncan, SA
- Duncan is no longer the fantasy star he was in his prime, but he still finished last season as the 20th best PF in fantasy leagues. He will be rested a lot but when active, you can expect another season of 15 PPG, 9 RPG and 1.5 BPG.
23. Zach Randolph, MEM
- Randolph missed a lot of last season with injuries, but has essentially been a 20 PPG and 10 RPG guy for the last 6 seasons. He doesn't steal many balls and blocks almost no shots, but you can count on another 20-10 season.
24. Kris Humphries, BKN
- With Brook Lopez being out most of last season, Humphries had a career year averaging 13.8 PPG, 11 RPG, 1.2 BPG and 0.8 SPG with pretty decent percentages (15th among PFs). With all the talent in BKN and Lopez being healthy all season, Humphries' scoring will decline, but the ex-Mr. Kardashian should continue to contribute heavily in the hustle stats.
The Nets have much more talent than last season, but Kris Humphries should still be a valuable asset
25. Andrea Bargnani, TOR
- Bargnani is a SG in a PF/C's body. He prefers to play around the 3PT line and rarely battles down low as evidenced by his career 4.9 RPG, 0.9 BPG and 0.4 SPG. However, if healthy (and that's a big if after missing 51 games in the past two seasons) he will scorer 20+ PPG and knock down enough 3PTs to be valuable in fantasy leagues.
26. Carlos Boozer, CHI
- Boozer is probably one of the most frustrating players to watch as he could easily be a 20 and 10 guy if only he exerted a little bit of effort. He will still average his 16 PPG and 8 RPG, but will provide little else in fantasy leagues.
27. Glen Davis, ORL
- Big Baby was tantalizing in his 13 starts when Dwight Howard missed the end of last season, averaging 15.5 PPG, 8.3 RPG and 1.3 SPG. The steals likely were just a hot stretch (career 0.7 SPG) but those scoring and rebounding numbers are definitely attainable for a full season.
28. Andrei Kirilenko, MIN
-
See SF preview for discussion
29. David West, IND
- West no longer has as active a role in the offense (or the PG) like he had in New Orleans, but he finished last season as the 19th most valuable PF in a down year. He should still get close to 30 MPG as the starter in IND and will be a great value pick in drafts.
David West is a great value pick in drafts as he struggled last season transitioning to a new role on the Pacers
30. Luis Scola, PHO
- Scola is mainly a scorer/rebounder, but he will get major minutes at PF and should improve significantly from last season's disappointment.
Tier 5:
31.

Nenê

, WSH -
Nenê

has been a very valuable fantasy center for years mostly due to his elite FG% and good hustle stats. However, he is battling plantar fasciitis and there is still no timetable for his return to action. He is your typical risk/reward pick.
32. Elton Brand, DAL
- Brand will begin the season as the Mavs starting PF after Dirk underwent surgery and will be out 6 weeks. He should have a lot of value to start the year before settling into a backup role once Dirk returns.
You shouldn't be shocked if Elton Brand is a reliable starter in fantasy leagues while Dirk is rehabbing a knee injury
33. Michael Beasley, PHO
-
See SF preview for discussion
34. Derrick Favors, UTA
– Favors is a very talented player, but with Paul Millsap and Al Jefferson already locking up the starting PF/C positions, it's hard to expect a big jump in minutes from the 21 MPG he got last season.
35. Thaddeus Young, PHI
-
See SF preview for discussion
36. Anderson Varejao, CLE
- Varejao has been injury prone throughout his NBA career, but when healthy he has been productive. He will only score about 10 PPG, but he's a very good rebounder, and chips in with some blocks and steals as well.
Tier 6:
37. Tristan Thompson, CLE
- Thompson is not much more than a rebounder/shot blocker as he has a very limited offensive game. However, with very little competition, he should see 30+ MPG as the starting PF so he will have value (as long as you can deal with the terrible percentages).
38. Derrick Williams, MIN
- Kevin Love is out 6 weeks after breaking his hand, so Williams will step in as the starting PF. The former #2 overall pick still has a lot of growing to do, but he is a good flier as long as he's starting.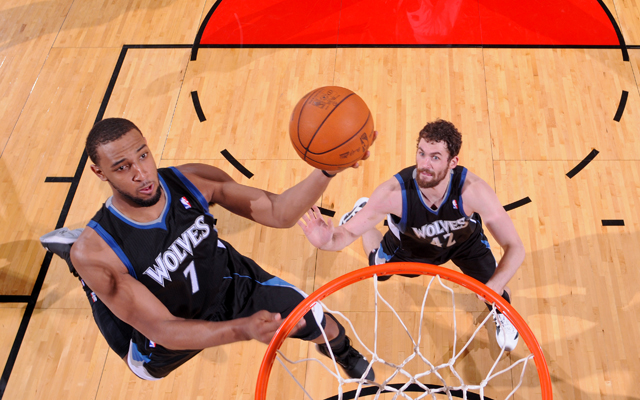 Derrick Williams has a great opportunity to shine with Kevin Love out to start the year
39. Thomas Robinson, SAC
- Robinson is an extremely skilled rookie, but he doesn't block a lot of shots and will be splitting time with Jason Thompson to start the year. There is a lot of upside there, but he will likely not reach his potential until next season.
40. Bismack Biyombo, CHA
- Biyombo is extremely raw, but at only 20 years old coming off a rookie season in which he averaged 5.8 RPG and 1.8 BPG in only 23 MPG, he has some value as a shot blocking and rebounding specialist.