Here are my pre-season rankings for small forwards in a standard 8-category rotisserie league.
Point Guard (PG) Rankings
and
Shooting Guard (SG) Rankings
have also been released.
The 8 categories are: FG%, FT%, Points (PPG), Rebounds (RPG), Assists (APG), Steals (SPG), Blocks (BPG) and 3-pointers (3PT), NOT including turnovers. Player position eligibility for these rankings were based on ESPN's position eligibility, so they may be slightly different to the ones used in your league.
Tier 1:
1. Kevin Durant, OKC
- KD and LeBron are the clear cut first two picks in fantasy leagues. I give the edge to Durant based on his edge in scoring, FT% and 3PTs.
2. LeBron James, MIA
- You can't go wrong with either pick, LeBron helps in every fantasy basketball category and is elite in scoring, FG%, rebounding, assists and steals.
Kevin Durant and LeBron James should be the first two players off the board in all fantasy leagues
Tier 2:
3. Josh Smith, ATL
- J-Smoove will hurt you with his FT% but
aside from
that he's a stud. Excellent defensively with his rebounding, steals and blocks.
4. Rudy Gay, MEM
- Gay is a great fantasy option, because he contributes in every category. Now with O.J. Mayo in Dallas, Gay could take on even more of a scoring role this season.
5. Carmelo Anthony, NY
-
Melo had a tough year because he shot only 43% from the field (lowest since his rookie year, career 45.6%). This season he should return to the 25 PPG scorer we have become acc

ustomed to watching.
Melo had a miserable 2011 (by his standards) and should be ready to return to the top 5 SFs
6. Nicolas Batum, POR
-
See SG preview for discussion
7. Paul George, IND
-
See SG preview for discussion
8. Paul Pierce, BOS
- Pierce is now 35 years old and is one of the safest SF picks. However, at this stage in his career, last years' numbers likely represent the ceiling of his fantasy value.
9. Andre Iguodala, DEN
-
See SG preview for discussion
10. Danny Granger, IND
- Granger has shot less than 43% each of the last three seasons, and while he's still great 3PT shooter, his steals/blocks and points have declined significantly since his prime.
11. Gerald Wallace, BKN
- Crash is no longer the fantasy stud he was in CHA, but with so much talent in BKN, his efficiency should improve, and he will rack up his usual rebounds, steals and blocks. His health is the only thing holding him back.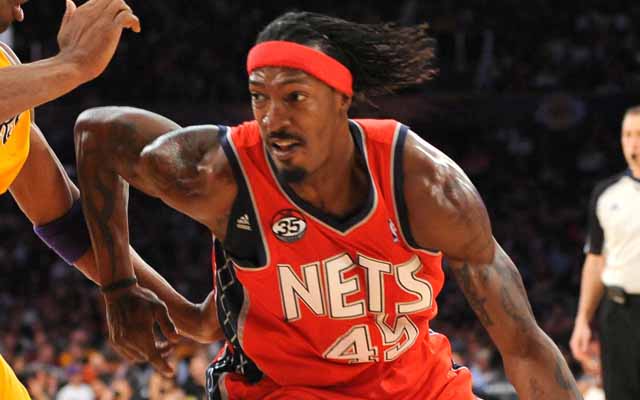 Wallace should have a very effective year as he doesn't have to carry the offensive load for the Nets
12. Joe Johnson, BKN
-
See SG preview for discussion
Tier 3:
13. Wesley Matthews, POR
-
See SG preview for discussion
14. Gordon Hayward, UTA
-
See SG preview for discussion
15. Luol Deng, CHI
- Deng shot a uncharacteristically low FG% last season due to wrist injuries (41.2%, career 46.5%) and therefore, was only the 21st best SF. Derrick Rose's absence for the first half should push more of a scoring role on him and therefore, he could reach 20 PPG for the first time in his career.
16. Ersan Ilyasova, MIL
- After an inconsistent first 3 years in the NBA, Ilyasova exploded for 14.2 PPG, 8.6 RPG, 0.8 SPG, 0.9 BPG and 1.0 3PTs in 41 starts. However, both his 3PT% and FG% far exceeded career norms so expect a step back in his efficiency this season.
Ilyasova had a career year last season, but will likely take a step back this year
17. Tyreke Evans, SAC
-
See PG preview for discussion
18. Danilo Gallinari, DEN
- Gallo's a great scorer, but after acquiring AI, the Nuggets have a very crowded group of scorers so Gallo's opportunities will likely decline.
Tier 4:
19. Andrei Kirilenko, MIN
- Former fantasy stud AK-47 returns to the NBA after dominating in Russia and will step in right away as a focal point of the T-Wolves this season. He will no longer post 3+ BPG is he did in his heyday, but will average 1.0 SPG and 1.0 BPG in his sleep. If he stays healthy he will far exceed his draft day value.
20. Kawhi Leonard, SA
-
See SG preview for discussion
21. Michael Kidd-Gilchrist, CHA
- MKG will take over as the starting SF in CHA, he's a great defender but is still raw defensively. He should rack up the steals, blocks and rebounds right away but will likely take a couple years for the offensive game to catch up.
22. Evan Turner, PHI
-
See SG preview for discussion
23. Michael Beasley, PHO
- The former #2 overall pick in 2008 signed with PHO (his third team in his young NBA career) and will be asked to provide offense for the talent starved Suns. They have even encouraged Beasley to shoot more so don't be surprised if he averages 18 PPG this season.
Beasley will be a good value pick as he lands in a great situation with the Suns
24. Thaddeus Young, PHI
- Young will likely be coming off the bench again this season, but will get heavy minutes and should help in rebounds, steals, points and FG%. Last year, he was the 18th most valuable SF while in that same role, so there is value even if he doesn't win the starting job.
25. DeMar DeRozan, TOR
-
See SG preview for discussion
26. Jared Dudley, PHO
-
See SG preview for discussion
27. Harrison Barnes, GS
- By far the most talented player at SF for the Warriors, Barnes should have little trouble earning the starting job over Brandon Rush and Richard Jefferson. However, Barnes' game doesn't translate the best to fantasy as he is more of a scorer and 3PT shooter than anything else. Don't expect much help in the other categories.
28. J.R. Smith, NY
-
See SG preview for discussion
29. Wilson Chandler, DEN
-
See SG preview for discussion
30. Chandler Parsons, HOU
- Parsons was very effective as the starter last season so Delfino replacing Chase Bundinger on the roster shouldnt push him from the starter's job. He averaged 11.5 PPG, 4.7 RPG, 1.1 SPG and 1.2 3PTs in the second half last season, and should build on that this year.