Week 4 was a great week to start your top QBs as Rodgers, Brees, Brady, Newton, Peyton Manning and Matt Ryan all finished as top 6 QB options this week.
This column, however, discusses the surprise stars (breakouts) and injuries (breakdown) that occurred in Week 4 of the 2012 NFL season and the fantasy implications of those performances.
Breakouts:
Ryan Fitzpatrick:
Despite the Bills being blown out of the water and throwing for 4 picks, Fitzpatrick posted 23 fantasy points (7th among QBs) on Sunday. He's now the 7th ranked QB for the year averaging 18.25 fantasy points per game, and is leading the NFL in TDs. It's about time we take him seriously as a good QB2 option.
Ryan Fitzpatrick leads the league in TDs, and he has a sweet beard
Kevin Kolb:
Since becoming the starter in ARI, Kolb has impressed throwing for 7 TD/3 INT and now has three straight games with 15+ fantasy points while leading the Cardinals to 4-0. He has always been talented enough to take the starting job and run with it, and now might be finally showing it. Look for QB2 value if he can hold off Skelton for the starters job.
Andy Dalton:
After struggling in the season opener against BAL, he has posted three straight 20+ fantasy point games against CLE (without Joe Haden), WSH and now JAC. Next up, he gets MIA and CLE again, teams against which he should post pretty good numbers. However, after those games, I'm selling. Dalton doesn't have good arm strength and besides A.J. Green there isn't much talent around him. Now 10th at QB in fantasy points, I expect him to finish the season well outside the top 15.
Andy Dalton has three straight 20+ fantasy point game but don't expect it to continue
Michael Turner:
After only rushing for 154 yards (3.7 yards/carry) in the first three games of 2012, Turner took full advantage of the great matchup against the Panthers, one of the worst rushing defenses in the NFL. He rushed 13 times for 103 yards, and even caught 3 passes for 68 yards and a TD. No, the old Michael Turner is not back. He still is the same slow RB that he has shown the past couple years and Jacquizz Rodgers' role will continue to grow throughout the season. The TDs will still come, but I'm selling if I can get top 15 RB value.
Jackie Battle:
In a surprising turn of events, Jackie Battle got the start in SD ahead of Ryan Mathews and had 15 carries for 39 yards (2.6 yard/rush average), plus 4 catches for 42 yards and 2 TDs. Battle will likely be picked up in a lot of leagues and is probably a decent handcuff for Mathews owners. However, Mathews still got 14 carries in this game, and Norv Turner
expressed confidence in Mathews
after the game. I would try to trade for Mathews now when his value is depressed as he is one of most talented RBs in the NFL. He will likely be starting again next week vs NO in a tasty matchup.
Brandon Bolden:
In the Patriots blowout over the Bills, Stevan Ridley (22 rushes, 106 yards, 2 TD) and Bolden (16 rushes, 137 yards, TD) both had 20 point fantasy days in Week 4. Ridley still got the most work, but it's clear that Belichek won't hesitate to mix in other RBs (Woodhead last week, Bolden this week). Bolden should be picked up this week, but its hard to know what to expect from the Patriots going forward. Ridley is still the back to own, but it's hard to keep Bolden off the field after a game like this. With Belichek though, Danny Woodhead or Shane Vereen might get most of the work next week.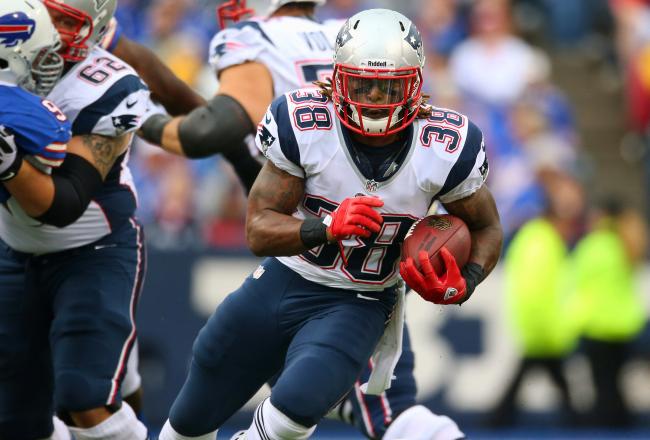 Brandon Bolden looked great on Sunday but what can we expect going forward?
Chris Johnson:
Sigh....Just when we finally write off Johnson, he turned in a great performance with 25 carries for 141 yards after rushing for only 45 yards on 33 carries all season. Is CJ2K back? No, I don't think so. Houston was up big most of this game, so they played conservative on defense, allowing CJ to run while waiting for another gift-wrapped interception to come their way. Perhaps this game was what he needed to get back on track, but if I'm an owner, I'm selling to someone else that buys the comeback.
Brian Hartline:
I didn't rank Hartline this week expecting that shutdown CB Patrick Patterson and the impressive ARI defense would shut him down and only Davone Bess would be successful with underneath routes. Well, Hartline sure showed me on route to breaking a MIA receiving record with 12 catches for 253 yards, 1 TD on an insane 19 targets.
Here's the list of WRs with more targets than Hartline (47) this year:
Dwayne Bowe (49) and Victor Cruz (49). That's the whole list!
Hartline needs to be owned in all leagues and started in most of them. The insane yardage was a little fluky (he was left open on a 80 yard TD) but the targets are no fluke. He will continue to get work and should be a WR3 going forward.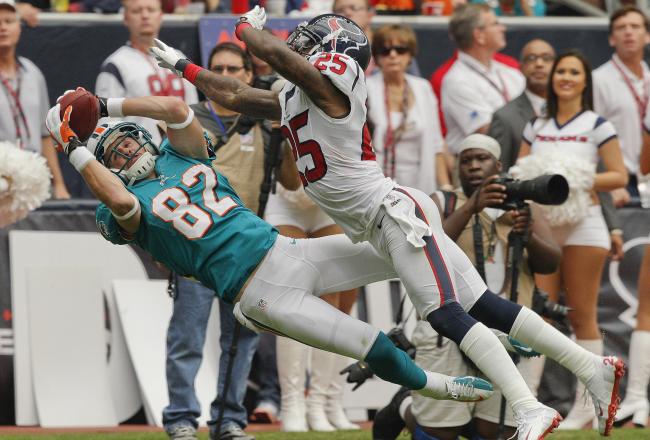 Brian Hartline needs to be owned in all leagues
Andre Roberts:
With Larry Fitzgerald commanding so much defensive pressure, the Cards have been waiting for someone to emerge across from him and take advantage. Well, Roberts is doing exactly that. In Week 4 he caught 6 balls for 116 yards and 2 TD, bringing his totals to 15 receptions, 229 yards and 4 TDs in 4 games. Guess who leads all NFL WRs in TD catches? That's right, Andre Roberts. Pick him up, he will be a good bye week fill in.
Marques Colston:
Colston had been hampered all season with a foot injury but looked back to the old star WR on Sunday catching 9 passes for 153 yards and a TD. Just a reminder that he is still the #1 WR option in that passing game and will be a WR2 going forward.
Scott Chandler:
I
ranked Chandler 13th at TE
this week, so I can't say I'm so surprised at his 4 catch for 62 yard and 2 TD performance. Chandler is a huge target at 6"7, 265 lb and he used that size excellently for his two TD catches. Fitzpatrick is starting to lean on him a lot (now has 23 targets on the year and 4 TDs). He's a safe TE2 going forward.
Scott Chandler elevates over the defense for his first TD in Week 4.
Breakdowns:
Scott Chandler:
Week 4 wasn't all good for Chandler, he also suffered a head injury late in the game. According to head coach Chan Gailey, both him and WR Donald Jones (who also suffered a head injury) "will be fine" so hopefully there is nothing to worry about.
Greg Jennings:
Jennings returned from a groin injury and played only 13 snaps catching one pass for a 9-yard TD (putting the team on his back - See below, hilarious video) But Jennings aggravated his injury and had to leave the game in the first half and didn't return. It's a big concern going forward and he will likely be out in Week 5. James Jones who caught 2 TDs on Sunday will start in his place if he misses time and should be owned in all leagues.
Jake Locker:
Locker was slammed on his shoulder in Week 4 from a blind side hit and needed to leave the game in the first quarter. It was originally feared that he suffered a serious shoulder injury, but the Titans listed him as day-to-day and described it as being similar to the dislocation he suffered in Week 1. Hasselbeck came on for Locker and didn't look very good.
Santonio Holmes:
After making a catch on the sideline, Holmes collapsed to the ground with a non-contact left foot injury. He has already been ruled out for Week 5 so it has the look of a serious injury likely involving some sort of ligament damage. Jeremy Kerley and Stephen Hill (when healthy) will benefit from Holmes' absence.
Santonio Holmes is likely out a while with a foot injury
Laurent Robinson:
Robinson suffered a concussion in Week 4, his third since training camp and second in two games. He will almost certainly miss Week 5 and there is a possibility of much longer. Justin Blackmon showed signs of life with 6 catches for 48 on 10 targets and could be a decent bye week fill in if Robinson remains out.
Other notes:
In what was expected to be a timeshare at RB,
Ahmad Bradshaw
dominated touches (13 rushes, 3 catches), while last week's star
Andre Brown
barely touched the ball (5 rushes, 1 catch). Perhaps it was just the flow of the game, but it seems pretty clear that Bradshaw will get the starter's workload when healthy.
Colin Kaepernick
, the backup QB in SF got a lot of work on Sunday in SF's wildcat package rushing 6 times for 67 yards and a TD, prompting some to question whether
Alex Smith
's job is safe. Let's put the questions to rest, Kaepernick isn't taking over as starting QB unless something happens to Smith. Smith fits too well in that system and is playing too well to be replaced. However, Kaepernick has value to the team as an effective wildcat QB in small quantities. He is just a small thorn in Smith's fantasy owners' sides.
Colin Kaepernick is getting some work in wildcat packages, but Alex Smith will continue to be the starter
Mikell Leshoure got 13 carries for 26 yards and caught 4 balls for 37 yards on Sunday. While he was not terribly effective, he got almost all the rushing carries, with Joique Bell the only other RB with a carry. Bell did have 6 catches for 72 yards and is seeing his role grow while Kevin Smith once again didn't have any touches. Leshoure is still a safe RB2/flex while Bell is clearly the handcuff to own.