Point Guard (PG) is one of the most important positions in fantasy basketball. Seeing as the ball is in their hands a lot, a fantasy team's PGs are weak it's almost impossible to compete.
Here are my pre-season rankings for a standard 8-category
rotisserie league.

The 8 categories are:
FG%, FT%, Points (PPG), Rebounds (RPG), Assists (APG), Steals (SPG), Blocks (BPG) and 3-pointers (3PT), NOT including turnovers

.
Tier 1:
1. Chris Paul, LAC - There is really no debate on who should be the #1 PG in fantasy basketball. CP3 is elite in assists, steals, 3PM, points and always shoots good percentages. His recent thumb surgery is a small concern, but there is little risk that he will miss regular season games because of it or in any way be limited to start the season. Lock him up at your first PG off the board!
2. Deron Williams, BKN - Williams struggled a little last season mostly due to a career low 40.7 FG%. However, with Joe Johnson and Gerald Wallace in town plus a healthy Brook Lopez, D-Will can get back to what he does best, distribute the ball and control the offense. His scoring should decline a little from last season's 21 PPG, but his assists and FG% should return to his usual rates.
3. Russell Westbrook, OKC - Westbrook has never missed a game in his 4 year NBA career and has improved every season. Last year, he added a consistent 3PT shot to his game (career high 0.9 3PT/game) and still improved his FG%. While he finished last season as easily the 2nd best PG in fantasy, his FG% should normalize this year and D-Will bouncing back should push him down a spot.
Olympic teammates, Chris Paul, Deron Williams and Russell Westbrook are the clear top three fantasy PGs.
Tier 2:
4. Kyrie Irving, CLE - Kyrie's ROY season was a special one, 18.5 PPG, 5.4 APG, 3.7 RPG, 1.1 SPG, 1.4 3PM and excellent percentages. He fractured his hand in the offseason, but he has already returned to the court and it doesn't appear to be a factor going forward. Only 20 years old, he should take another step forward this season with an improving Cavs team. Averages of 21 PPG and 7 APG aren't out of the question.
5. Ty Lawson, DEN - After Raymond Felton was traded to Portland, Lawson finally got the chance to start that he had deserved. In 2011-12, averaging almost 35 min/game, Lawson improved in almost every offensive category while still posting his amazing percentages. Lawson finished as the 5th ranked PG in fantasy leagues last season and should take another step forward this year.
6. Steve Nash, LAL - Even though Nash scored only 12.5 PPG last season (his lowest since 2000) he still finished as the 3rd ranked PG in fantasy basketball due to his great percentages and elite assists. Since he has been traded to the Lakers, there were concerns about his role declining since Kobe is traditionally does a lot of ball handling but Kobe has welcomed the idea of Nash taking away some of those responsibilities.With so much talent around him, Nash could challenge for the league lead in assists and will likely improve his 3PTs while still maintaining his elite shooting percentages.
7. Brandon Jennings, MIL - Jennings isn't a great shooter (career 39.3%) but he has improved his shooting percentage every season since he's come into the league (last year 41.8% on route to 4th on the player rater). He will never be an elite assists guy because Monta Ellis will handle the ball a lot as well, but he will rack up points and 3PTs.
8. Goran Dragic, PHO - Here are Dragic's numbers as the starter in HOU while Lowry was out last season: 18 PPG, 8.4 APG, 3.5 RPG, 1.8 SPG, 1.8 3PT/G, 49% FG, 84% FT in 36.5 minutes/game. Those look an awful lot like Deron Williams numbers. The move to a much less talented Suns team will hurt but Dragic is certainly talented enough for a top 10 PG season.
Steve Nash (now with Lakers) and Goran Dragic (takes over as the Suns' starter) both are top 10 PGs this season
Tier 3:
9. Monta Ellis, MIL - Ellis is a high volume scorer, who's scored as much as 25.5 PPG just two years ago. After he was traded to MIL, he struggled as he wasn't given as much opportunity to shoot as he had been given in GS. One may think leaving up-tempo GS would be bad for a players stats, but MIL was actually 3rd in the NBA in possessions per game. With a full offseason, Ellis is a good bounce back candidate.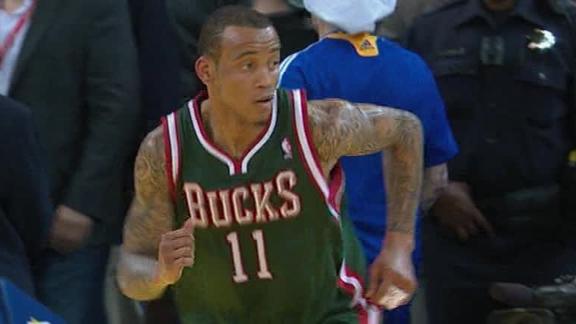 Monta Ellis is a great source of points and assists and even has SG eligibility which adds to his value.
10. Stephen Curry, GS - Curry was a fantasy stud in his first two years in the league, but missed most of last season with ankle injuries. Curry is back practicing and reports have been great. If he can stay healthy, he will be the steal of the draft. With Monta Ellis now in MIL, the opportunity is there is improve on career highs of 18.6 PPG, 5.8 APG and 2.1 3PTs.
11. Mike Conley, MEM - Conley isn't elite in any category except steals, but he does a little bit of everything and doesn't really hurt you anywhere. As a result, even in a slightly down year he still finished as the 8th ranked PG in 2011-12. There isn't a ton of upside, but with Conley you get production you can bank on.
12. Jrue Holiday, PHI - After a breakout 2010-11, Holiday struggled last year as Andre Iguodala was asked to do more of the facilitating and Holiday seemed to not have a big role in the offense. As discussed after the AI trade to Denver, Holiday (still only 22) will get his chance to shine as he will have the ball in his hands a ton. He should improve upon career high numbers of 14 PPG, 6.5 APG.
13. John Wall, WSH
- Wall would certainly be in Tier 2 but he has a stress injury in his knee that will keep him out the first month of the season. When healthy, Wall is a special talent capable of averaging 18 PPG, 8.5 APG, 5 RPG and 2 SPG. He doesn't shoot 3PTs well, but still finished as the 7th best PG in fantasy in 2011-12. When healthy, he can be a top 5 PG.
14. Kyle Lowry, TOR - For 38 games, as the starter in HOU, Lowry averaged 15.9 PPG, 5.3 RPG, 7.2 APG, 1.8 SPG, 1.8 3PTs and appeared to be on the verge of superstardom. However, after needing to be hospitalized for a bacterial infection, he missed a lot of the 2nd half of the season and was traded to the Raptors in the offseason. He is expected to start over Jose Calderon, and I'm expecting the talent of Lowry to shine through.
Kyle Lowry was traded to the Raptors, but he fits well in their system and should far exceed his draft day value
15. Tony Parker, SA - Parker had a career year last season, averaging a career high 7.7 APG while scoring 18.3 PPG and leading the Spurs to 1st place in the Western conference. However, Parker doesn't have the great game for fantasy as he doesn't shoot many 3PTs or get many steals or rebounds. As a result, he finished last season as the 12th ranked PG. He's extremely safe, but unlikely to crack the top 10 PGs.
16. Rajon Rondo, BOS - The most baffling thing in fantasy basketball is the rankings of Rajon Rondo around the industry. He doesn't shoot 3PTs, doesn't score a ton, and is brutal from the FT line. But yet Rondo is consistently ranked as a top 4-8 PG. Yes, he is elite in assists and steals, and he's a very good rebounder but I'm not spending a Round 2-4 pick on a two category stud. Rondo finished 21st on the ESPN player rater among PGs last season. In H2H leagues, there is more value as you can build your team punting on 3PM and FT% and don't need to overcome Rondo's deficiencies with the rest of your team. However, in rotisserie leagues, Rondo just doesn't help enough in the other categories to be a top 10 PG.
Tier 4:
17. Tyreke Evans, SAC -After starting almost exclusively at PG in 2010-11, the Kings finally figured out that Tyreke is best suited to play off the ball and installed Isaiah Thomas as their starter last season. As a result, Evans' role in the offense declined as he had career lows in points, assists and rebounds. He's a super talented player, but he will likely never turn into the stud player that was expected coming out of college.
18. Louis Williams, ATL - Williams has been an effective 6th man for PHI but after being traded to ATL, will likely be the starter at SG. He will be counted on for a large scoring load and will likely see a lot more playing time than last season's 26.3 MPG. He could push 20 PPG and easily surpass 1.5 3PTs, while helping in assists and steals.
Lou Williams is a great breakout candidate as he will be taking on a scoring role with the Hawks.
19. Jeremy Lin, HOU - Linsanity took over New York City last season, as Lin averaged 18.2 PPG, 7.7 APG, 3.7 RPG, 2.0 SPG and 1.0 3PTs. It wasn't always pretty but Lin was a very effective starter in fantasy leagues. Now with a whole offseason to scout him, I don't expect Lin to be as successful as he was last season, but HOU's system has proven to be good to PGs.
20. Mo Williams, UTA - Williams has been an extremely effective PG in the NBA but for the past couple years has been buried in a deep backcourt in LAC. Now as the starter in UTA, he should get back to guy that put up 17 PPG, 6 APG, 2.0 3PTs that he has proven to be in the starting role.
Mo Williams should be a good PG this season as the starter for the Jazz and can be drafted in the later rounds
21. Isaiah Thomas, SAC - Mr. Irrelevant 2011 had a fine rookie season after taking over as the starting PG in SAC, averaging 14.8 PPG, 5.4 APG, 3.1 RPG and 1.4 3PTs while shooting for good percentages both from the field and the line. Aaron Brooks signed with SAC but figures to be the clear backup.
22. Damian Lillard, POR
- Lillard will be the starting PG for the Blazers and if his performance in the summer league is any indication (leading all players with 27.7 PPG), he will be an extremely successful PG in the NBA. In college with Weber State, he averaged 24.5 PPG, 5.0 RPG, 4.0 APG, 1.5 SPG and 2.9 3PTs while shooting good percentages. He will be more of a facilitator with all the talent in POR, but should certainly help in points, assists, 3PTs, rebounds and steals while shooting decent percentages.
23. Raymond Felton, NY - In 2010-11, Felton starred in Mike D'Antoni's system averaging career highs of 17.1 PPG, 9.0 APG, 1.6 3PTs and 1.8 SPG. After a season away in POR, where he showed up out of shape and struggled greatly, Felton returns back to NY looking to bounce back. He has reportedly back in good shape and therefore, should be a great mid-round PG pick in drafts.
24. Ricky Rubio, MIN - After taking over as the starter, Rubio starred for the T-Wolves, 10.8 PPG (on only 33% shooting), 8.3 APG, 4.3 RPG, 2.4 SPG and 0.8 3PTs in 31 starts before tearing his ACL. He has progressed well in the offseason and should return in mid-December. Once he returns he should go back to being a effective PG, but the FG% would need to come up before he will be able to return top 10 PG value.
25. Derrick Rose, CHI - Rose isn't expected back until after the all-star break, but he could win a lot of people their fantasy leagues down the stretch if he's able to get back to full strength. Once the starters are taken, there is little harm on gambling on Rose (especially if you have an IR slot).
Tier 5:
26. Jeff Teague, ATL -Teague was the 9th best PG last season on the strength of his well rounded fantasy game. This season, with the addition of Devin Harris, his role is not clearly defined, but if he runs with the starting job, should deliver significant value on draft day.
27. Rodney Stuckey, DET - Stuckey is a good scoring combo guard, but is a lot less valuable now that Brandon Knight is the starting PG. With Ben Gordon now in CHA, there is a huge opportunity for Stuckey if he can finally stay healthy.
28. George Hill, IND - Hill - After taking over as the starter, Hill averaged 13.9 PPG, 5.3 APG, 3.7 RPG and 1.4 3PTs. After Collison's departure and D.J. Augustin taking over as the backup, those numbers are certainly attainable for the season, but upside is very limited.
George Hill will have a full season as the starter in Indy now that Collison is in Dallas
29. Jameer Nelson, ORL - Nelson really struggled to start the year, but turned it on in the 2nd half scoring 14.3 PPG, 6.1 APG, and 2.1 3PTs. With Dwight Howard now in LA, he may have to take on more of a scoring role, but Nelson is more valuable in real life than in fantasy leagues.
30. Darren Collison, DAL - Collison will take over as the starting PG in DAL, but Delonte West will spell him a lot and Collison doesn't do enough to really help a lot in fantasy leagues.
31. Mario Chalmers, MIA - Chalmers is the starting PG for MIA in name only as Lebron is the prime ball handler and facilitator. He has some value as a 3PT and steal specialist, but doesn't contribute much in the other categories to be a starter in most fantasy leagues.
32. Brandon Knight, DET - Knight had a decent rookie season, but besides hitting 3PTs he doesn't help enough in the rest of the categories to be a valuable fantasy asset.

33. Luke Ridnour, MIN - With Rubio out to start the year, Ridnour takes over as the starting PG, a role at which he has been successful in the past. Look for him to have value as look as Rubio is out, and continue to be a deep league fantasy option afterwards for his assists.
34. Kemba Walker, CHA - Walker has the chance to start all year now that Ramon Sessions has replaced Augustin in CHA. However, Walker isn't the most attractive of fantasy options due to his killer FG%.
35. Greivis Vasquez, NOR - With Jarret Jack now in GS, rookie Austin Rivers is the only obstacle between Vasquez and the starting PG job. As the starter last season, Vasquez was effective averaging 12 PPG, 7 APG, 1.1 SPG and 0.8 3PTs.
Greivis Vasquez isn't getting a lot of draft day love, but he will likely be the starter in NO, and should be effective
Tier 6:
36. Andre Miller, DEN - Last season, while averaging 6.7 APG, Miller finished as the 20th best fantasy PG. At 36 years old, and with Ty Lawson role likely growing, Miller should see his playing time decline again this year, but he will continue to have value as an assists specialist.
37. Chauncey Billups, LAC - Billups is starting to get back to practice, but after tearing his Achilles last season, will likely not get back in the lineup until December. Even when healthy, Billups may not be anything more than a scoring and 3PT specialist. I'm staying away unless he can be stashed on an IR slot until healthy.
38. Jose Calderon, TOR - With Lowry in town, Calderon will be relegated to backup duties. However, he still has value as an assists specialist.
39. Jamal Crawford, LAC - Crawford isn't the player he once was, but with Billups out to start the year, he could get enough points and 3PTs to have some value in deeper leagues.
40. Jarrett Jack, GS -With Stephen Curry's injury history, Jack makes for an interesting stash as he has proven to be effective when starting. Even without an injury, Jack should see a fair bit of playing time and coach Mark Jackson has expressed that he is comfortable playing both on the floor at once.
Jarrett Jack is a good late round flier as he will be the starter in GS if Stephen Curry's injury issues persist